The Ideal Safari itinerary
Are you interested in going on a safari to Tanzania, but you don't know where to go or how to combine the different national parks, then look no further and keep reading. We will be focusing on the national parks in northern Tanzania, even though there are many more to explore around the country (that is for another time). 
Tanzania is known for being an ideal destination for safari and its exceptional national parks are famous worldwide, so thinking about going to Tanzania on a safari is a good start! In the northern part of Tanzania, there are 4 national parks not too far from each other and then there is one called Mkomazi on the other side of Mount Kilimanjaro (which is also for another time). So to give a quick overview of the 4 national parks, there is Tarangire National Park, Lake Manyara National Park, Ngorongoro Crater, and Serengeti National Park. Read more in detail about the national parks here, because now we will go into more detail on how to put them together in the ideal safari itinerary.
Day 1: Tarangire National Park
Whether you start your safari from Moshi or Arusha, then Tarangire National Park is a good place to visit first. It is quite a drive to Ngorongoro or Serengeti, so being able to break up the long drive with a safari on the way is definitely worth it. Also, when starting your safari, you might be so excited that you want to see wild animals on the first day. Therefore, the ideal safari itinerary begins with a day trip to Tarangire National Park.
Day 2: Ngorongoro Crater and Serengeti
After a good nights sleep in Karatu (a town between Tarangire and Ngorongoro), the safari will continue on to the Ngorongoro Crater and Serengeti. Driving from Karatu you will enter the Ngorongoro Conservation Area, which you have to pass through in order to get to Serengeti, no matter what. Here you will have the chance to have a look over the crater from the view point as well as doing a safari in the crater. After a game drive in the crater, you will continue on with your safari to the one and only, Serengeti National park, where you will spend the next two nights. 
Day 3: Serengeti National Park
After a night in the wild, you will wake up bright and early for a full day of safari and views of the endless plains. Hopefully, you will get to see everything you wished for and all the animals you haven't seen yet. Of course nothing is guaranteed but in Serengeti, you will get a good chance. You will then spend one more night listening to lions roaring and hyenas laughing.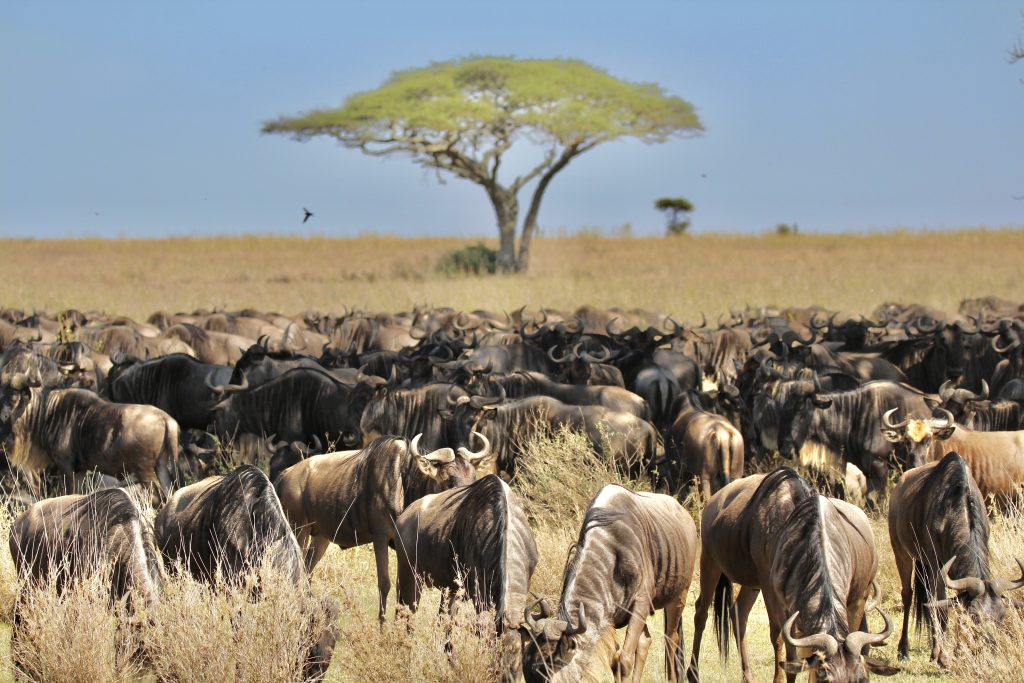 Day 4: on to the next adventure
Your safari is coming to an end and this is the last morning of the safari. After you have packed your belongings and had breakfast you will start your game drive towards the exit with the opportunity to still see animals on the way. After exiting Serengeti, you will drive through the Ngorongoro Conservation Area once again and then back to Arusha or Moshi.
With this 4 day safari, you have seen the highlights of what Tanzania has to offer safari-wise including the park over all the other parks – Serengeti National Park. As Serengeti is situated the furthest away and is the largest national park, then we do recommend stopping by Tarangire National Park on the way and to have at least two nights inside Serengeti National Park. Going down into the Ngorongoro Crater is an added bonus if the budget allows. 
And what's next after the safari. You surely don't travel all the way to Tanzania for 4 days, therefore we highly recommend combining your safari with climbing Mount Kilimanjaro, and/or experiencing more beautiful nature around Moshi and Arusha and/or a beach holiday to Zanzibar. 
Do you have any questions regarding the safari itinerary or planning YOUR own dream safari, then get in contact with us by sending an email to info@msafiritanzania.com or click on the pretty WhatsApp button to chat with us straight away.
Are you wondering if you get to see the Big 5, or are you also interested in climbing Mount Kilimanjaro or going to Zanzibar, then read these: