an exceptional beach holiday and must-knows about Zanzibar
Zanzibar is the most beautiful small island located off the mainland of Tanzania and is a quite popular destination for travelers, which we completely understand. So if you are looking for a tropical and extraordinary beach holiday, but you don't know where, what and how, then keep reading – and don't worry, we will also give out tips for the less touristic areas of Zanzibar. 
How do you get to Zanzibar?
It is very easy to get to Zanzibar, as some of the major international airlines, such as Emirates, Qatar, British Airlines, KLM, etc. fly to the island. So if you are going on a holiday exclusively to Zanzibar, we would recommend flying straight there. If you are looking for more than "just" a beach holiday and want to combine it with a safari or a Mount Kilimanjaro climb then there are various domestic airlines that fly between Arusha or Kilimanjaro International Airport and Zanzibar, which only takes an hour (when booking a package deal through us, we will take care of it all). If you want to experience a big Tanzanian city like Dar Es Salaam, then Zanzibar is only a 2-hour boat ride away.
Where should you spend your time on Zanzibar?
Even though it is a fairly small island, there are many places to stay and explore and much to do. It is possible to stay in one place and then go on day trips around the island, or we would also recommend staying a couple of nights in one place and then moving on to the next, so you get to properly experience the different parts of Zanzibar. It definitely depends on your interests, vibe and what you want out of your holiday on Zanzibar in regards to where you should stay. Nungwi and Kendwa, which are located in the northern part, have absolutely beautiful beaches and sunsets, and lots of nice restaurants on docks over the high tide. Paje on the east coast, has more of a laid back vibe with cafés and beach bars right on the beach, and it is a mecca for kitesurfers. Jambiani is situated right next to Paje and also has a beautiful beach and is known to be a bit more of a quite space than Paje. We would highly recommend going either to the northeren part or the east coast, and if you have time then combining the two. If you want more privacy, then Matemwe on the north eastern part of Zanzibar, is the place to be. Lastly, there is Stone Town, where we would definitely recommend to spend a day or two to wander around the narrow streets and admire the architecture, whilst studying the history, the culture and the local life of Zanzibar. The roof tops of Stone Town are also amazing for sunset views, before indulging at the street food market. If you want to explore more than Zanzibar, then we would highly recommend checking out the smaller nearby islands such as Pemba Island and Mafia Island. 
What is there to do on Zanzibar?
What if we said that you could eat at a restaurant in the ocean, hang with monkeys who are not found anywhere else in the world, and learn all about cinnamon, vanilla, and other spices. It sounds pretty great, right? What if we also said that you could swim in a cave, try kitesurfing, and meet 100-year-old turtles. Sounds even better, right? And what if we then also said that you could ride a horse on the beach, go skydiving, and swim with wild dolphins? Well, we are definitely not saying it for the fun of it, you can do all these things on Zanzibar and we recommend you to do so!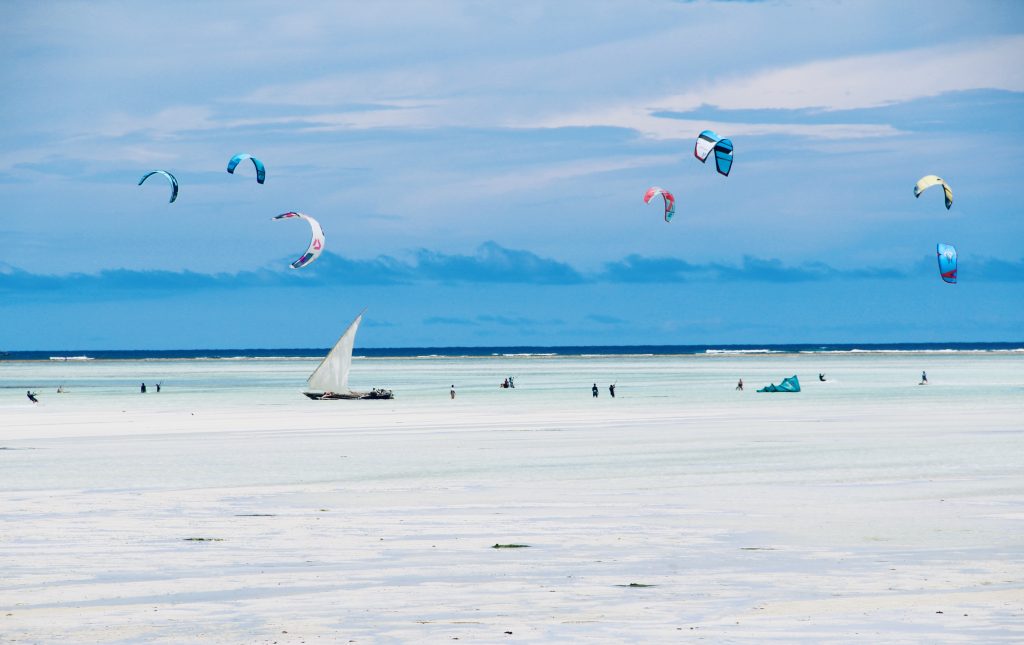 What should you know about traveling to Zanzibar?
Even though Zanzibar is a touristic island, then you should still be respectful of the local culture, and as Islam is the dominant religion on Zanzibar, showing respect is to dress conservatively especially around Stone Town – at the beach, it is of course more acceptable to wear beachwear. You will therefore also hear the mosques occasionally around town. 
Most places take credit cards (most places take with a surcharge), but we recommend carrying cash, either USD or TSH, as you shouldn't rely completely on ATMs or machinery in Zanzibar. If you do need an ATM or currency exchange, then it is best to do so in Stone Town, but there are a few at the beaches too. 
The best time to visit Zanzibar is during the dry season (read: less humid), from July to September. The long rain season to avoid runs from March to May. The temperature is good all year round, between 28 – 34 degrees celsius, but if you do visit Zanzibar between the dry season and the rain season, which many do, then you should just be prepared that it can be pretty humid. 
Lastly, you should be aware that Zanzibar is an incredible place and you should be ready to be blown away by the beautiful white bounty beaches and the clear blue ocean, and the hospitality from the amazing Zanzibari people.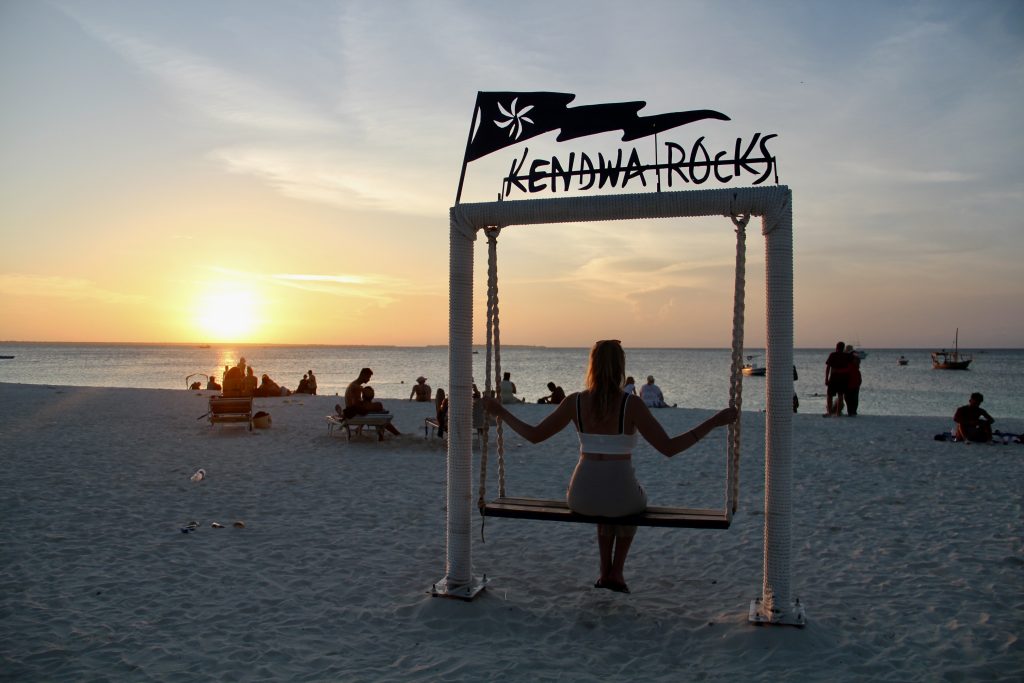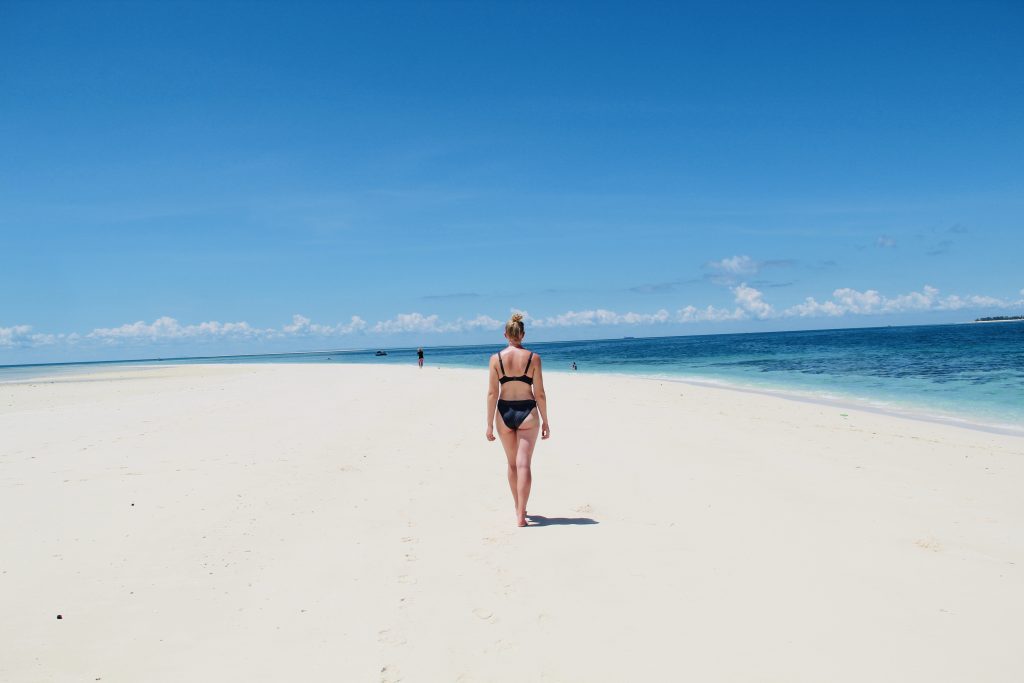 If you have any further questions about Zanzibar or are intrigued to go experience it for yourself, then please do not hesitate to get in contact with us today. We can arrange your stay and all the excursions. Send us an email at info@msafiritanzania.com or click on the pretty green WhatsApp button to message us. 
Are you also interested in going on a safari or experiencing the mainland of Tanzania, then read these: