Everything You Need To Know About Mount Kilimanjaro
If you're reading this then congratulations, you just took your first step towards summiting Mount Kilimanjaro, which at 5895 metres above sea level, classifies as being the highest mountain in Africa and the highest free-standing mountain in the world. So even though you haven't taken a physical step yet, then still give yourself a pat on the back and continue reading, so you will be ready for when you do take that first physical step up the Mount Kilimanjaro.
First of all, we want to establish one thing. Mount Kilimanjaro is not only for the most physically fit people out there, so if you have it on your bucket list in your seventies, or you really want to have this experience, but you don't go to the gym seven times a week, then you can still make it. It definitely gives you an advantage if you have trained a fair amount before going on the climb, especially if you have done some other long hikes at a high altitude, but it is not a must. That being said, we also don't want to give you the picture that it is a piece of cake to climb Mount Kilimanjaro, it is very challenging and hard, but with the right mindset and being able to take it slow, then we are saying that if you give it your best shot then it could be possible. But isn't it like that with most things in life, if you don't give it your all, then you will never know the heights you can reach.
There are seven established routes up Mount Kilimanjaro, but don't worry or get overwhelmed, we are here to help you choose the one that is the right fit for you. To help you get a quick overview then Marangu route is considered the easiest path up the mountain, but also one of the busiest, whereas Umbwe route is considered the most difficult, but also has the least traffic. The Rongai route is quite like the Marangu route in difficulty and recommended for those with less hiking experience, but it is also a more remote route, and therefore less popular. The Machame route is the most popular route, but also labeled as a difficult route and recommended to those who are more adventurous and have som hiking experience. Lemosho route is one of the newer routes, but has gotten very popular very fast, as it is one of the most beautiful routes, but also fairly difficult, and it is actually an improved version of the Shira Route which also exists. Lastly, there is the Northern Circuit route, this is the longest route, but great for acclimatization. So to circle back, there are quite a few routes to choose from, so please get in touch with us, so we give you the correct guidance in which route could be the right one for you. 
So to get rid of some of the burning questions you might have about climbing Mount Kilimanjaro, then we will get into some of the practical details now. 
How many days do you need to climb Mount Kilimanjaro, you might ask, well it depends on the route and your physique, but even if you are one of the fittest people on the planet, we still recommend taking it slow on the mountain to be able to acclimatize properly. So the routes take between 5-9 days, but we do recommend that you spend about 7 days on the mountain in order to climb slowly, cause even though Mount Kilimanjaro is known as a "walk-up" mountain, you should not underestimate it and its risks. 
When is the best time to climb Mount Kilimanjaro is also another good question. There are wet and dry seasons in Tanzania, and it is definitely not fun to spend a week on the mountain in heavy rain, as well as not as safe. Therefore, the best time to climb Mount Kilimanjaro is in the warmest and driest months, which are January, February, August, and September, but also the weather is fairly good from mid-June and July, as well as September, the beginning of October, and the end of December. We recommend that you stay away from Mount Kilimanjaro, from mid-October to mid-December and April and May. With this being said, then please note that this is just a general recommendation and we cannot promise that there aren't rainfalls in the periods where we have stated them as being the best time, as the rain periods in Tanzania are getting less and less predictable. 
One of the most important questions is probably how do you get the best success rate to summit Mount Kilimanjaro. There is definitely no guarantee that you will stand on top of Mount Kilimanjaro when you take your first step, but we and our guides will do everything we can for that to happen. A slow climb definitely leads to a more successful climb, so if you are not an experienced hiker then we do recommend a longer route. Even if you are an experienced hiker but not in these heights, then we recommend the same. Altitude and avoiding altitude sickness is one of the most important factors for a successful summit, and we cannot promise that you can avoid it, but some good tips are to drink lots of water during your climb, eat well, walk slowly, and if you have a tendency or are afraid to get altitude sickness then carry Diamox with you (but consult with your doctor on this first)
And what about during your climb, where do you sleep, what do you eat, do you carry all your luggage yourself and what gear should you bring. First of all, you will be sleeping in tents, except if you choose the Marangu route, then it is possible to sleep in huts, but camping is part of this exceptional experience. We have mountain chefs who climb with you and prepare all your meals and cater to all diets. You do not carry all your luggage by yourself, but you do carry your own daypack, where we recommend not to carry more than 9kgs. You will also be accompanied by porters who carry your duffel bag, sleeping bag, tents etc., but they are allowed to maximum carry 15 kgs, so pack lightly. You are responsible for bringing all your personal gear and equipment, whereas we will provide the communal equipment (tents, cooking equipment, food etc.). Down below we will list a packing list, so you are well prepared.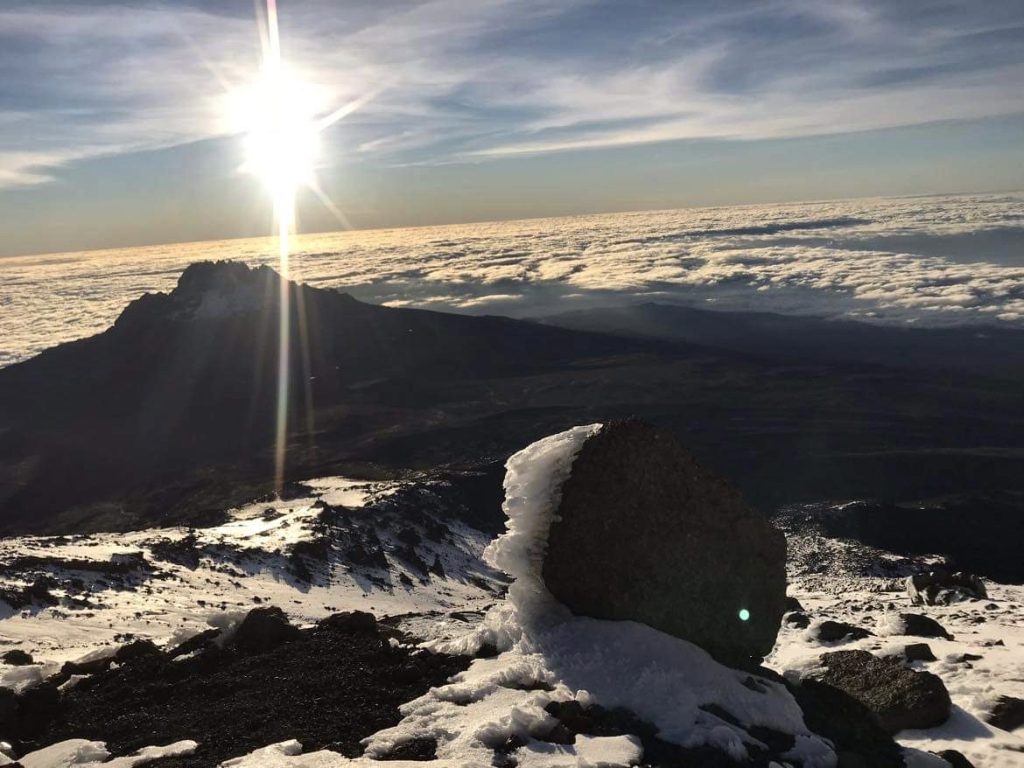 Packing List for Mount Kilimanjaro
Technical clothing:
Waterproof jacket 
Insulated jacket 
Soft jacket or fleece
Long sleeve shirt 
Short sleeve shirt  
Waterproof pants 
Hiking pants 
Fleece pants
Long underwear 
Underwear 
Sports bra for the women 
Headwear, handwear and footwear: 
Brimmed hat for sun protection 
Knit hat for warmth 
Warm gloves 
Light gloves 
Hiking boots 
Socks 
Accessories: 
Sunglasses 
Waterproof backpack cover 
Water bottle (32 oz) 
Water bladder (3l) 
Towel (lightweight and quick-dry) 
Pee bottle to avoid leaving the tent during the night 
Equipment: 
Sleeping bag (warm, four seasons) 
Inflatable pillow 
Trekking poles (collapsable) 
Headlamp with extra batteries 
Duffel bag (70l – 90l – for porters to carry) 
Daypack (30l – 35l) 
Other: 
Toiletries 
Prescriptions 
Sunscreen 
Lipbalm 
Insect repellent containing DEET 
First aid kit 
Face mask 
Hand sanitizer 
Toilet paper 
Wet wipes 
Snacks (lightweight, high in calories, and high in energy) 
Camera with extra batteries 
Power bank 
We hope after reading this you are ready to embark on possibly the greatest journey of your lifetime and tick off one of the most exceptional bucket list items. If you have any other questions about climbing Mount Kilimanjaro, any concerns, or if you're ready to book your climb right away, please get in touch with us through the pretty green WhatsApp logo on your bottom right or shoot us an email at info@msafiritanzania.com. 
Lastly, we just want to leave you with a picture of the majestic, one-of-a-kind, Mount Kilimanjaro and remind you that you could be standing on the top!
Are you wondering what to do before and/or after your climb, and are you also interested in going on a safari, then read these: